So, you are planning for a Rome vacation but unfortunately, do not have much time to do that? Well, fret not! It is indeed possible to explore a lot of Rome in just a single day. Here, we are going to share with you a step-by-step One-Day Rome itinerary focusing on the highlights of Rome to help you make the most of your day in Rome. Let's get started with our one-day Rome itinerary!
Rome in a Single Day
In this guide, we are focusing on the absolute attractions of Rome that we think the first time visitors will really wish to focus on. It's definitely going to be a busy itinerary for one day and so you can adjust it as per your interests.
The Historical Center of Rome
Start your journey with a walk through Rome's historical center. While there isn't much time to explore all the locations in depth, there are numerous opportunities for an instagrammable photo session.
Colosseum
Colosseum in Rome opens at 8.30AM. If you wish to maximize your sightseeing time in the city, a wise option is to begin your Rome journey early in the morning. You can also take advantage of a service that lets you purchase your ticket in advance. This will make you head straight to the security line.
The Colosseum is a truly marvelous building to visit. Dating from medieval Rome, it has survived through the fall of the Roman Empire, the Dark ages, the Middle Ages, the Industrial Revolution, and our present modern age.
Though it definitely has suffered a bit of wear and tear over the years, it's still remarkably recognizable as a massive sporting arena and looks amazing for a 2,000-year-old building. On your first visit to Rome, touring here is a must!
Roman Forum
Alongside Colosseum, and included with your Colosseum ticket, lies the Roman Forum. This place, the heart of the Roman Empire, is at the center of all Roman life.
There are temples, shrines, judiciary buildings, government buildings, speech podiums, and places of commerce. Essentially, almost everything of import that happened in the Roman Empire, would also have happened here in some form or the other!
Today the Forum is a huge sprawling area consisting of a number of ruined structures in different states. There is truly a great deal to explore here, though trying to limit your time to around an hour to 90 minutes is suggested so as to allow you to see other places in Rome as well.
Pantheon
Ancient Romans surely knew a thing or two about construction. The Pantheon, which is going to be your next stop, is an amazing example of this. Finished entirely around 126AD, this former temple has been in constant use, and to this date, the roof is still the largest unreinforced concrete dome ever in existence.
Apart from being the phenomenal architecture, the Pantheon is the last resting place of numerous significant folks, including the painter Raphael.
Trevi Fountain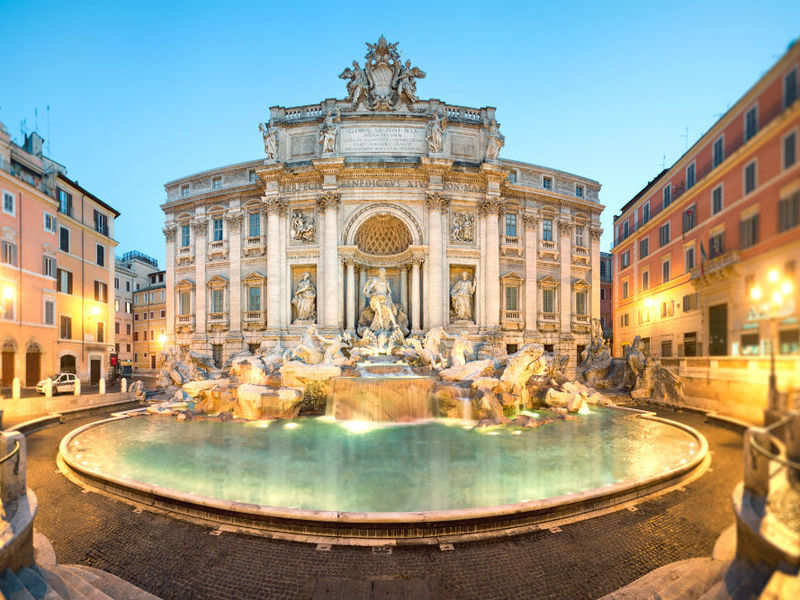 Just a few minutes from the Pantheon is the globally-renowned Trevi Fountain, indeed one of the world's most visited and photographed fountains.
Though the place must be a little crowded, you are still likely to see the fountain as it is over 80 feet high and over 160 feet wide. It's been drawing tourists since 1762, many of whom throw a coin into the fountain for good luck.
Altare Della Patria
The huge Altare Della Patria is also known as the Monumento Nazionale a Vittorio Emanuele II. This was constructed to honor Victor Emmanuel, the very first King of unified Italy since the 6th century, who was crowned as such in 1861. Having a total area of 17,000 square meters, this is quite the monument and one that you are sure to spot.
St. Peter's Basilica
The last stop on our one-day Rome's highlights is St. Peter's Basilica, undoubtedly the most significant church in the Roman Catholic faith.
Constructed in the early 17th century, and designed by Renaissance masters such as Michelangelo, Bernini, and Bramante, this is indeed the largest church building in the world and is believed to be the home of the tomb of Saint Peter. A major site of pilgrimage for Catholics from all over the world, this church has a lot to see inside. Moreover, you can head all the way up to the roof for spectacular views across the city.
Note that St. Peter's Basilica remains closed at 6 pm October to March and 7 pm April to September. Generally, the last entry is 75 minutes before closing.