Sun and Fun in San Diego
Near the bottom of the state of California is a major city that few discuss beyond notable names like Los Angeles, Sacramento, or San Francisco. The city of San Diego was the site of the first Spanish mission in California and continues to be a thriving hub of tourism and convention halls, a key port for the US Navy, and a major link to neighboring Mexico.
Staying Warm:
Like most of Southern California, the climate in San Diego is the mild Mediterranean, with warm sunny days and cool, rarely chilly nights. However, the area is subject to gloomy skies in May and June, and during the late summer, you can expect some hot, dry winds (known locally as "Santa Ana winds") that blow in from the desert to the coast.
Getting There:
If you're traveling by car, interstate freeways like the I-5 and the I-8 will get you there, especially if you're coming from the Los Angeles area. For a less hurried trip, you can take the Amtrak train line, which also connects to a local bus service after arriving in the Santa Fe Depot. And for frequent fliers, there's the San Diego International Airport, although it services more American airlines than international ones, with Mexico, Canada, Britain, and Japan being the exceptions.
Getting Around:
Compared to more congested cities like LA, driving in a car is the easiest way to get around the metropolitan area, with plenty of paid parking spaces available downtown. You can also rely on public transit like the famous San Diego Trolley, which runs through Old Town, Downtown, and the major outlying communities.
Major Attractions: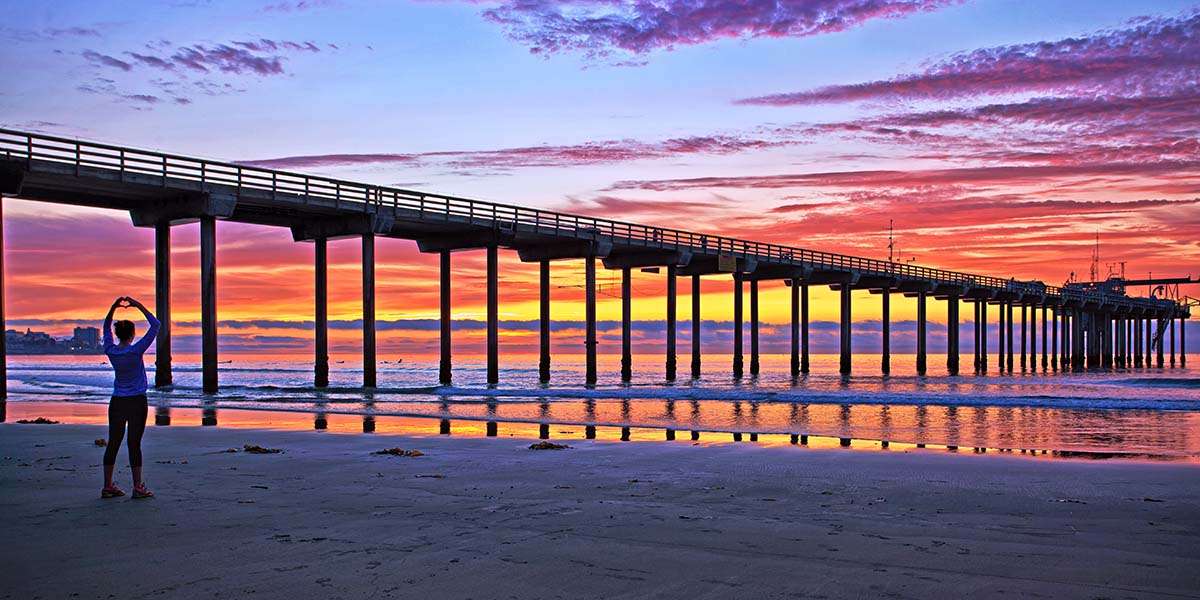 Most tourists hit the most obvious attractions like Sea World and the San Diego Zoo, both of which have an impressive collection of sea creatures and wildlife. There's also the lovely beaches lining the western edge of San Diego, the USS Midway Museum (built inside an anchored aircraft carrier), the lovely flowers and trees of Balboa Park, and sporting events for football and baseball teams like the Chargers and the Padres.
Shopping:
The biggest shopping center is Horton Plaza in Downtown San Diego, which features hundreds of boutiques and major retailers. You can also find great shopping at Westfield and Fashion Valley in the Mission Valley area, along with antique markets and handmade crafts stores in parts like Ocean Beach and La Jolla.
Dining and Nightlife:
San Diego contains numerous styles of cuisine, from Mexican and Italian to Chinese and Thai. You'll find great seafood in the many beachside restaurants like Anthony's Fish Grotto. The nightlife in this city is also just as varied, with fine bars like Café Noir and just about any establishment in Pacific Beach.
Hotels:
Tourism is a major industry in San Diego, so you'll find plenty of places to stay. Prices and accommodations range from luxury beachside hotels to humble cottages and motels, usually located in Downtown, Mission Beach, Pacific Beach, Coronado, and La Jolla.